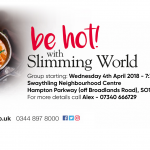 Classes 7.30 pm Wednesday's
My name is Alex Wright and I'm a fresh out of the box Slimming World consultant for Swaythling
Like thousands of people I had been unhappy about my weight and how I looked for years, but then I discovered Slimming World in January 2017. Both me and my husband (who will be making frequent appearances in group, so lads don't worry, you won't be the only man there!) joined and have never looked back!
We still enjoy delicious filling, family friendly meals such as lasagne, spaghetti bolognese or burger and chips and lose weight. That's what I love about Slimming World, no food is off limits! No eating food you hate! And best of all no getting hungry!!
I'm bursting at the seams with all the things I want to teach my new members, so if you're ready to take the first step through the door then I will be there to greet you with a warm smile and cup of tea.
Contact Alex 07340 666729